Alton generators


How to order
When ordering Altons please give your daytime phone number
Alton Generators have been designed to provide enough power to give modern levels of lighting and reliable levels of charging for bikes even equipped with electric starts. They are 12V AC alternators and are used with a solid state regulator/rectifier.
The Altons are 12 Volt single phased AC generators specially designed to replace the 3" dynamos on British motorcycles. Their brushless design is based on permanent magnet technology, modern simple and reliable.
They provide 150 watts at their maximum and at about 90 Watts at ordinary cruising speeds allowing the use of modern lights while charging the battery. An Lucas E3L (A10s, Triumph twins etc) only give 60W maximum (more on 12V though). Miller as fitted to Vincents 50W if you're lucky.
They have the same dimensions as Lucas and Miller and they maintain classic standard appearance
Early versions of the Alton were 3 phase and some proved to be unsatisfactory, the current versions have been made for over 5 years & are very reliable.
The units are supplied with full fitting instructions, and simple wiring diagram.
There is a 2 year warranty on all Altons
Prices include a Podtronics Regulator/rectifier
P&P to England & Europe £12.95
When ordering, please supply your phone no. for the carriers
Pt.no. ACG01 generator for Vincent twin C/W Polyamide sprocket £575.95
Pt.no. ACG02 generator for Vincent Comet (supplied with a polyamide pinion) £554.95
Pt.no. ACG03 generator for Velocette (supplied with alloy pulley) £568.95
Pt.no. ACG04 generator for Triumph twin (uses original drive pinion) £536.95
Pt.no. ACG05 generator for Magdyno (uses original drive pinion) Nickel plated body. £550.95
Pt.no. ACG06 generator for BSA twin (supplied with Vbelt drive kit) £570.95
Pt.no. ACG06CS generator for BSA twin (supplied with 11t sprocket for chain drive) £570.95
Pt.no. ACG07 generator for AJS & Matchless singles (supplied with a 19T sprocket) £568.95
Pt.no. ACG08 generator for early Norton twins (uses original drive pinion) £558.95

Pt.no. ACG09 generator for G12 Matchless & all dynamo twins (uses original drive pinion) £558.95

Polyamide sprocket available for Vincent twins giving quieter running than the std steel PD15. Supplied with the ACG01 but available seperately.

This can be fitted to dynamo equipped twins

£49.95 Pt.no. ALTPOL

A high output 200W Podtronics regulator is supplied with each Alton. This will also replace earlier Alton Reg/Rects, has simpler wiring, and does not discharge the battery when standing. Pt.no.REG10121 £84.95
P&P to England & Europe £12.95
Click here for how to order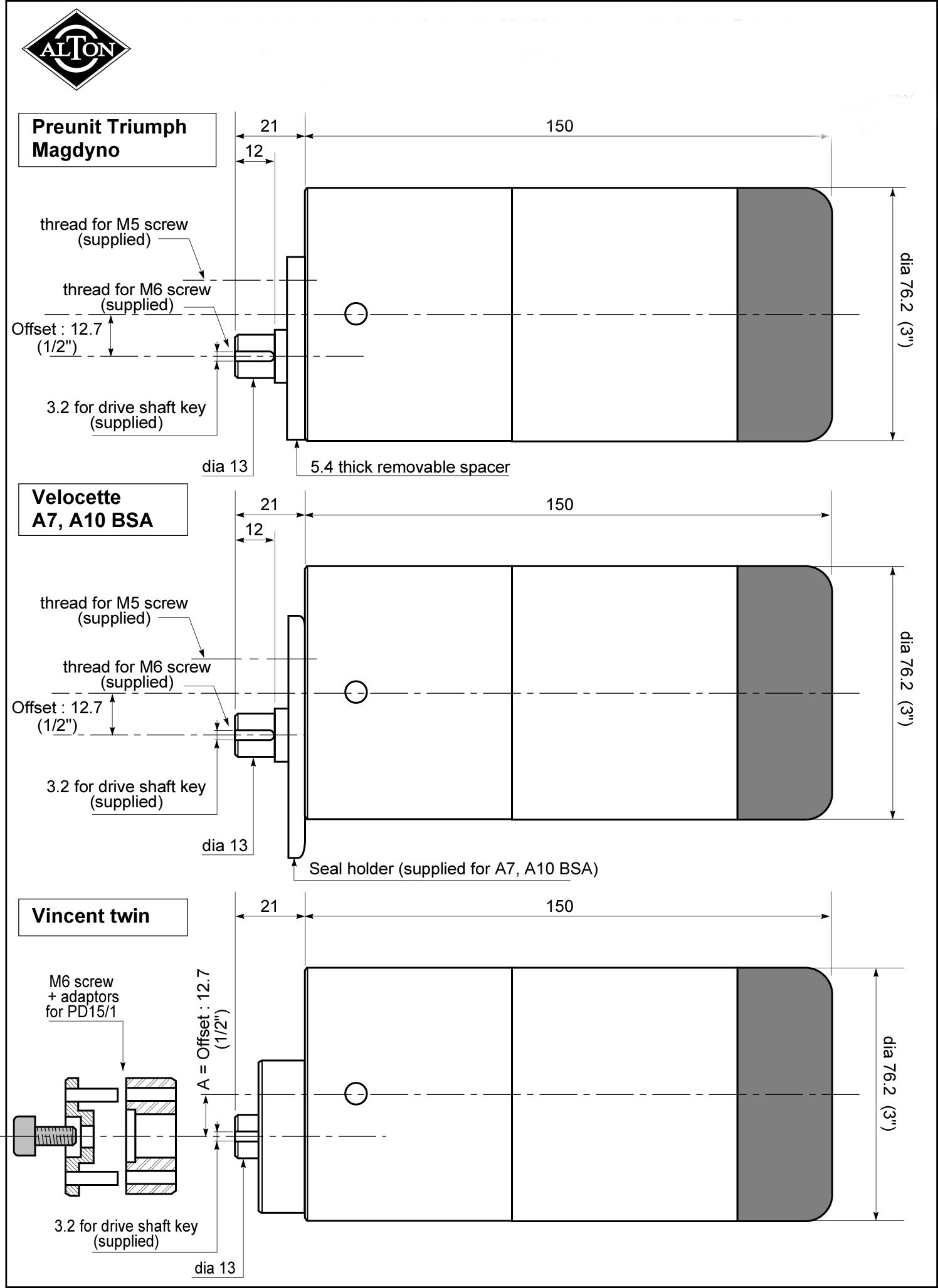 What's new page

How to order

LED Indicators, 6V & 12V

LED bulb replacements for cars & motorcycles

Brighter Quartz Halogen bulbs for older vehicles

Standard replacement bulbs, cars & M/cycles

Motorcycle indicators

Motorcycle batteries

Motorcycle & Car lighting

Motorcycle electrics

Genuine Lucas lighting/ign. parts

Pazon electronic ignitions & Mag. replacements

Alton generators, dynamo replacements

Motorcycle accessories

Motorcycle petrol taps and fittings

Motorcycle Oil Filter Kits

Speedos, tachos, drive units, mountings etc.

Handlebar levers for Classic Bikes

Girling Replica motorcycle shock absorbers

BSA fork upgrade kit & other A7/10 parts

Stainless Steel Silencer Clamps

Goffys Norbsa 850

Goffys A10

Homepage
Write to me: 49 Chequers Lane
Prestwood
Bucks. HP16 9DR
Ring me on: 01494 868218
9.00AM - 4.30PM Mon./Thurs.
Please leave a message if I'm out
Don't phone in the evenings, it makes me grumpy
E mail me at: norbsa02@aol.com (use this address for Paypal payments)
For enquiries/order details, please go to

Order Page